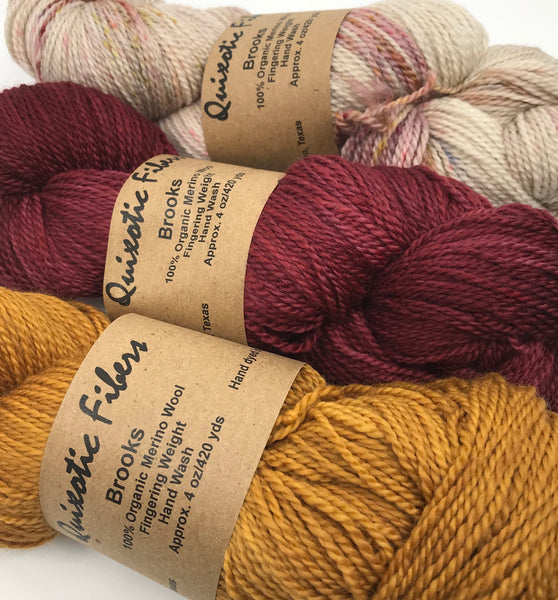 Did you know that our Quixotic Fibers hand dyed yarns include squishy non-superwash merino in sock, DK, and worsted weight?
If you are a fan of pure wool that has not been superwash treated, please check ours out.  Carla has already knit two sweaters out of the Nolan worsted weight yarn, and it has become her favorite worsted weight sweater yarn. It is bouncy and easy to knit, and keeps it shape.  It can be washed in the delicate cycle with cool water and then laid flat to dry.  Carla did sneak one of her sweaters into the dryer for about 20 minutes without any ill effects.
The sweater on the left is the Oksa Sweater by Caitlin Hunter.  The one on the right is the Woodwardia sweater from the Spring 2019 issue of Pom Pom Quarterly
Both sweaters are on display during the Yarn Crawl, together with several samples knit in the Brooks sock weight and the Elijah DK.
Carla selects the yarns that she dyes carefully for quality as well as ethical production practices.  All of our merino yarns come from North American wool that is ethically grown and milled in the United States or Canada.  Our Rambo (rambouillet) is produced in the UK, and our Silky Yak is milled in Italy, whose textile industry is famous for exceptional quality.