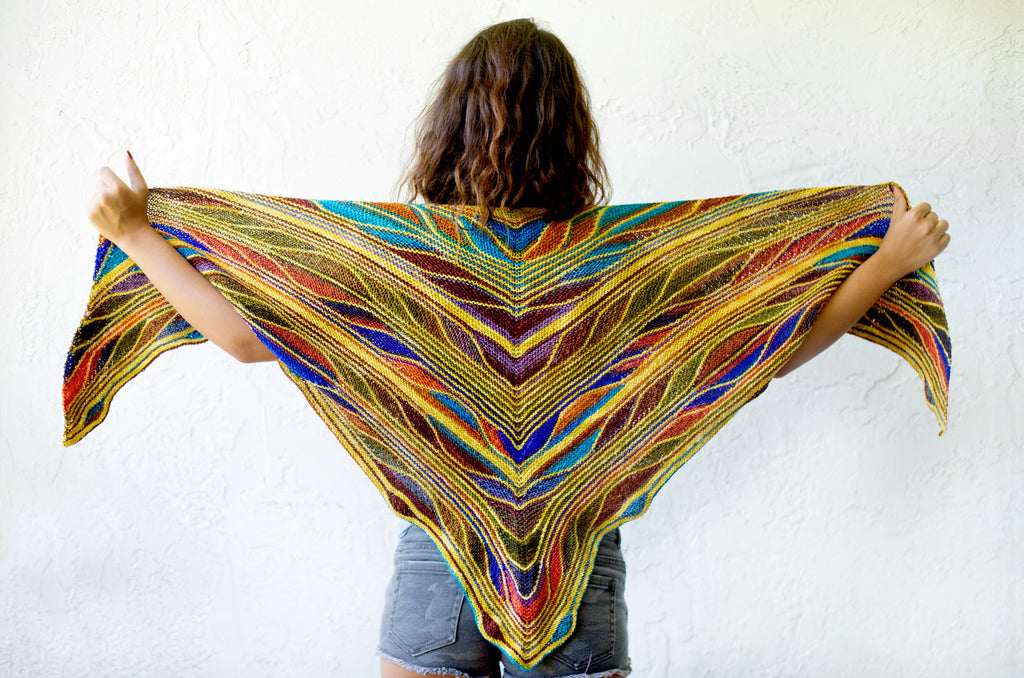 The Papillon shawl by Marin Melchior has been on my knitting bucket list ever since I saw the stunning purple and green version knit in Uneek self-striping yarn in StevenBe's booth at Stitches.  I purchased the pattern over a year ago, looked it over, and it gave me a headache.  The pattern is carefully and clearly written, but it looked so complicated!  I would have to pay close attention to following it, and following patterns is not my strong suit.
And so it was relegated to the bucket list of things that I would knit "someday."
Then a few weeks ago at DFW Fiber Fest I got to see Sheryl's finished Papillon.  Instead of a self-striping or gradient yarn, she used one of Meadowcroft Dyeworks complex and subtle multi-colors paired with a semi-solid color for the "outline" rows.  The effect is just magnificent:
After seeing Sheryl's work of art, I started seeing all sorts of possible color combinations.  It became a bit of an obsession, until finally I decided to take a deep breath and just cast on. 
This one is in Meadowcroft Dyeworks Rockshelter Sock in the Highlands Laurel and Laurel Caverns colors.  I already have visions of many other variations in my head.  Of course that means that I have been putting together kits, lots and lots of them, which you can find here, grouped according to dyer and yarn type.
For those of you who are local, I am also offering a "free with purchase" class to get you started with the pattern in case it intimidates you, as it did me at first.  I would like to figure out how to do an informal on-line class or help session for those of you who live too far away to come to the shop, but I am not quite there yet.
Don't let yourself be intimidated by the pattern.  Just start at the beginning and trust the process and you will be delighted with the butterfly that emerges from your needles!