Vogue Knitting Holiday 2019
Vogue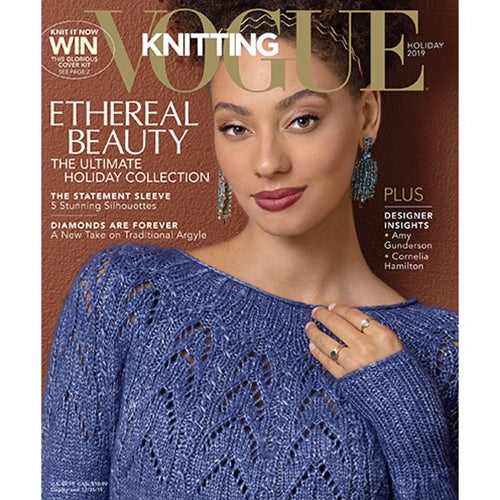 Vogue Knitting 2019 Holiday
FEATURES
SEE CHANGES
Aids both high- and low-tech help knitters with visual disabilities pursue their favorite craft. By Carol J. Sulcoski
PICK UP OR PICK UP & KNIT
When you knit up anything other than raw stitches, which strand should you knit into? By Meg Swansen
ALPINE DREAMING
Krista Ann of KnitsyKnits checks out the knitting scene in Zurich, Switzerland.
FASHION

AN ACE UP YOUR SLEEVE
When it comes to choosing a sleeve style, fortune favors the bold.
A DIAMOND BY ANY OTHER NAME
Argyles with a twist prove that diamonds are definitely a girl?ÇÖs best friend.
THE BEST OF BOTH WORLDS
Designer Cornelia Tuttle Hamilton lives life on her own terms.
TRICOT ENCHANT?ë
Elegantly subtle or distinctly eye-catching, our curated collection of lace garments is just right for the holidays and beyond.
THE COLOR OF ROMANCE
Alexandra Davidoff?ÇÖs one-sleeve wrap is singularly striking in hand-painted yarn.