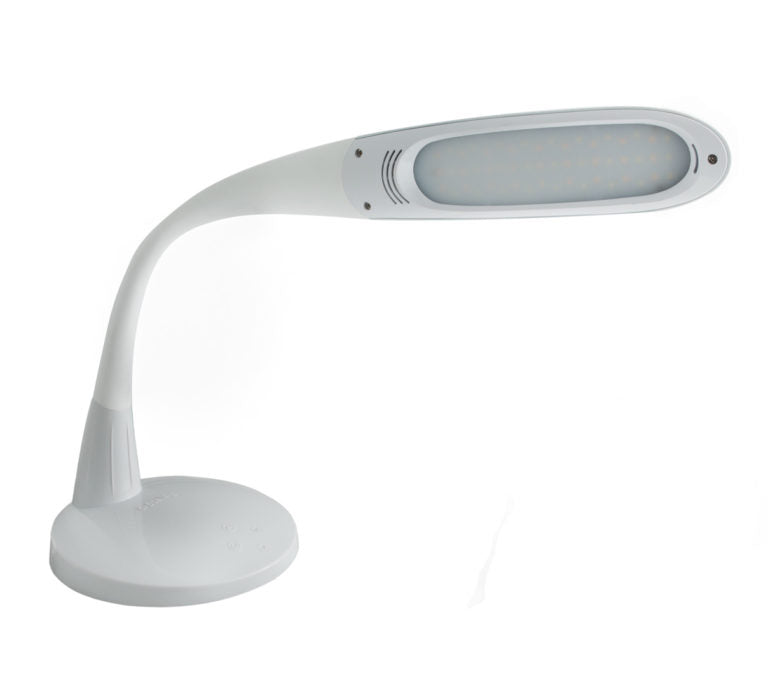 The Stella??TWO LED Task Lamp is the newest member of the Stella family. Intelligently designed with the user in mind, the Stella??TWO is for the individual who needs more overall light output, greater control over intensity, and enhanced tactile feel. The Stella??TWO is the ideal product for individuals who utilize adaptive technologies for low vision, reading, crafting, and creating.
The weighted base keeps the lamp steady while the flex arm allows the light to be rotated in nearly every direction. The tactile-raised touch pad is located on the base and allows the user to dim the light by ten (10) different brightness settings, while still offering our Tri-Spectrum technology. The Stella??TWO utilizes new state-of-the-art Philips Lumiled high performance LEDs, offering over 50,000 hours of life along with minimal heat output and no bulb replacement!
Tri-Spectrum Technology
The Stella??TWO utilizes the brightest LEDs in the marketplace: Philips Lumiled High Output LEDs. Tri-Spectrum Technology gives the user maximum control over color spectrum and intensity. The user can change between Warm White (2800K), Pure White (4500K), and Cool White (5500K) depending on the desired light for the given activity.
Flex Arm
As with ALL Stella Lighting products, a segmented steel flexible arm gives the user complete control in positioning the light. The head of the lamp can be twisted and rotated with the promise that the light will hold its position and get you light exactly where you need it.