Ripples and Checks Skirt - Pattern
Prism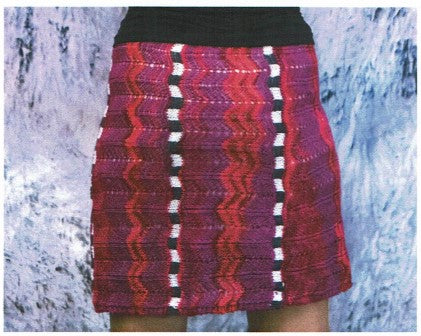 Designed by Brigette Reydams for Prism Arts.
Brigitte's fresh take on her Misso Skirt turns the pattern on its side for slimming vertical stripes. Shaping is achieved with short rows.
And of course the signature domino pattern enlivens the impact.
Sizes S(M,L,XL). Garment takes 5(5,6,6) skeins of Euroflax Sport Weight Linen.
1 skein each Ebony and Pearl, plus 2 colors, then 1(1,2,2) of main color.
Cool, crisp linen dyes beautifully in Prism's rich, saturated colors. There is nothing like pure linen for keeping cool on hot summer days. Prism's finishing process results in a softer hand than many linen yarns right out of the skein; repeated machine washing will soften it even more.
Fiber Content: 100% linen
100gr / 270yds per skein
6 stitches =1" on US #2-4; Larger, open gauges work well