Prym Ergonomics Arne & Carlos Gift Set
Prym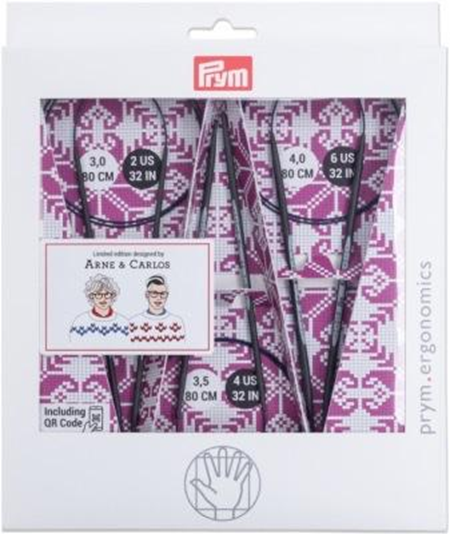 From Prym Ergonomics is this Limited Edition Carbon Circular knitting needle Gift Set.
The set is a collaboration with famous Norwegian knitting influencers Arne & Carlos.  The picture inside the packaging shows a traditional Norwegian knitting pattern, along with a QR code to download it yourself.
The set contains three circular knitting needles from the prym.ergonomics range, popular for its innovative combination of materials.  High-quality carbon fiber-reinforced plastic makes exceptionally lightweight, flexible needles that are also incredibly sturdy.   Yarn slides smoothly across the black needles and down onto the purple, plastic-coated steel cable without wrapping around it.  The needle sizes are clearly marked on the needles in light gray print. 
This is a special Limited Edition set and the needles included are not available separately.
Includes US sizes 2 (3mm), 4 (3.5mm), and 6 (4mm), all with a 32" length.