Pitch Black Notebook - 4.75" x 7.5" - Dot Grid
Field Notes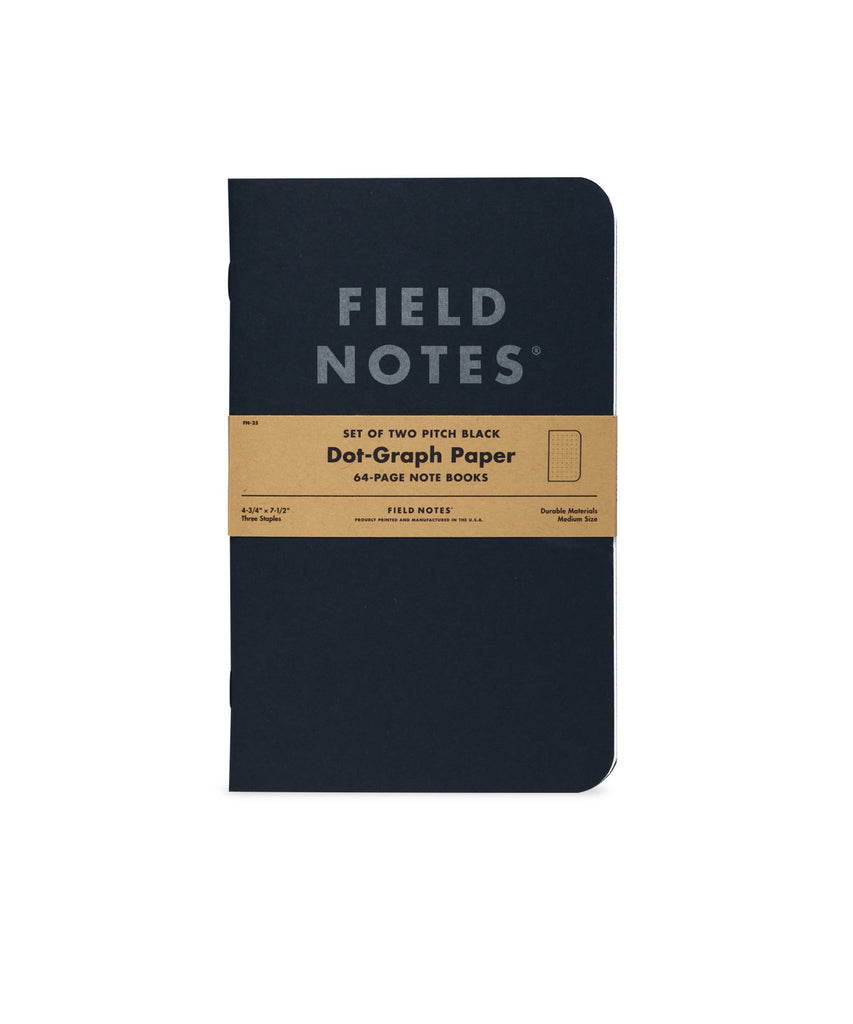 These new Field Notes Pitch Black Notebooks are available in 2-Packs. They?ÇÖre bound with glossy black staples and sturdy 118# covers featuring new, Field Notes-exclusive black/kraft duplex paper from French Paper Co.
These 4-3/4" ?ù 7-1/2" books allow more room for textual flim-flam, so we added some possibly-useful information regarding light and darkness to the inside covers of the notebooks, along with our usual Specifications and Practical Applications.
Proudly printed by the good people of eDOC Communications, Mount Prospect, Ill.
Cover: French Paper Co. custom-made 118#C ??Pitch Black Duplex?g (??Blacktop?g and ??Packing Brown Wrap?g) with a brute force application of ??Stephanite?g (outside) and ??Dachshund Nose Black?g (inside) soy-based Saphira inks.
Innards: Finch Paper Opaque Smooth 60#T ??Bright White,?g with a fine, 1-color application of ??Light Mist Gray?g soy-based Saphira ink.
Cover and innards printed on a Heidelberg Speedmaster XL 105 40" 6-color press.
Bound with gloss black staple wire on a Heidelberg Stitchmaster ST 270 5-pocket saddle stitcher with cover feeder/scorer & Rima RS 10S in-line stacker.
Corners precisely rounded to 1/2" (12.7mm) radius with a Challenge SCM double round-corner machine.
Dot-Graph grid: 3/16" ?ù 3/16" (4.7mm ?ù 4.7mm). Ruled lines: 1/4" (6.4mm).
Note book dimensions are 4-3/4" ?ù 7-1/2" (121mm ?ù 191mm).
FIELD NOTES uses only the Futura typeface family (Paul Renner, 1927) in its materials.
All FIELD NOTES note books are printed and manufactured in the U.S.A.