Pennant Wrap - Pattern
Prism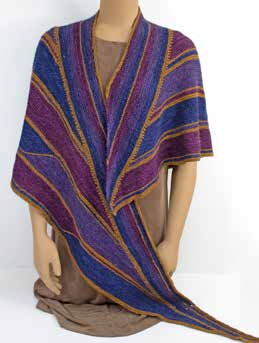 Streamers of short row wedges echo the fluttering of pennants in a fresh breeze. Three related colors are accented with a pop of color from the other ide of the Chroma Noir wheel. Asymmetrical ends offer a variety of options for styling, with plenty of length to wrap around yourself and an exquisite drape from Petite Madison to fall in soft folds.

Petite Madison is Madison's baby sister: a single ply of luscious high quality merino, cashmere and silk. Lustrous, with a beautiful sheen and great dye saturation,

Petite Madison is that rare singles that will hold up well due to a firm (but not overspun) twist. Like all singles, it is not recommended for socks or other high-abrasion uses. This asymmetrical crescent wrap is knit in garter stitch with short rows.
Finished dimensions: 19.5" X 105"
Wrap requires:
4 skeins of Prism Petite Madison yarn (75% Merino, 15% Cashmere, 10% Silk, 372 yards per 100g skein)
Printed pattern