Patty Lyons' Knitting Bag of Tricks - Over 70 Sanity Saving Hacks for Better Knitting
David & Charles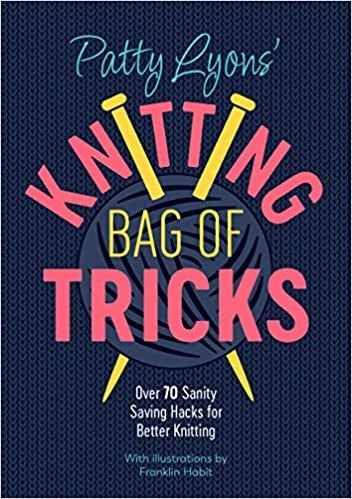 Do you wish your knitting was better and that you had an expert knitter by your side when it goes wrong?  Then, this book is for you! 
Patty Lyons is an expert in all things knitting! With this book, she will help you sort out your gauge, unpick problems like twisted stitches and generally spruce up your knitting know-how in this pocket-sized reference book packed full of her purls of wisdom. Patty is a well-known knitting 'agony aunt' and she will hold your hand as you tackle the problems that often beset knitters and get in the way of beautiful finished projects.
This isn't like other how-to-knit books with basic information about casting on and how to form stitches (although there is a handy how-to reference section at the back for when you need a refresher); this is a book about the 'why' of knitting. Not about why we knit but about why we knit the way we do. By digging deeper into the 'why'-- Patty doesn't just fix your knitting problems she helps you to truly understand why the yarn/stitches/needles/tension are acting in a certain way and how to fix any issues.
And, as you'd expect from a Patty Lyons book, there is a healthy scattering of humor and irreverence throughout; you might take knitting seriously but you don't have to be serious while knitting!  The book also has a special binding that will keep it open while you knit.
And, as an added treat: illustrations are by Franklin Habit!
209 pages
Dimensions: 5.8" x 0.6" x 8.2"
Note: Books and magazines ship via Media Mail