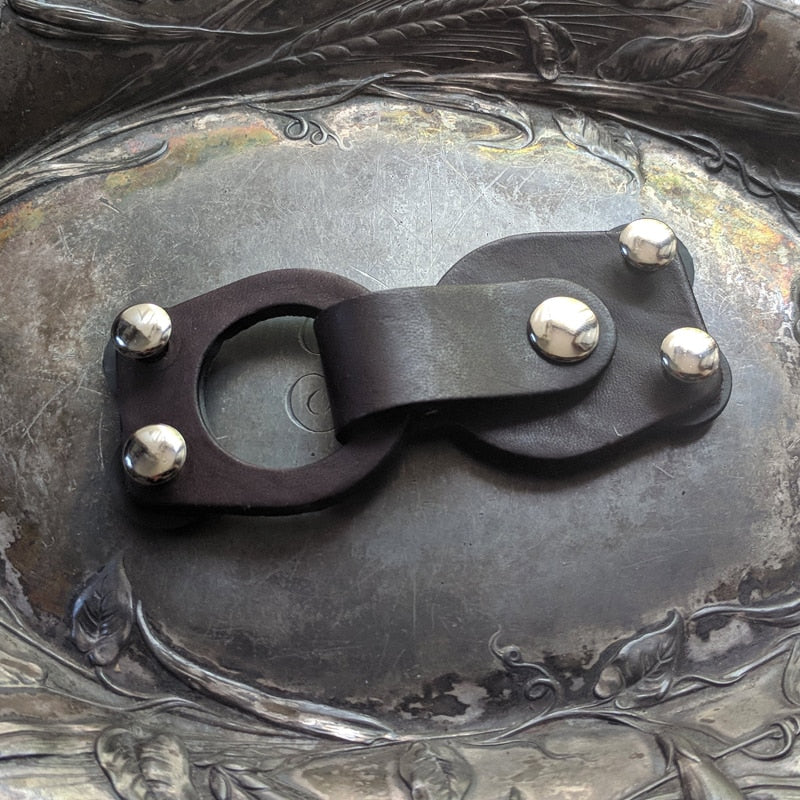 Made in the USA
Genuine leather, Screw-in closure with snaps
4" wide x 1.75" tall
Make the fantastic possible with your garments and accessories everyday by using the Mod Loop in myriad ways. The Mod Loop, like other JUL screw-in snap closures, screws directly into the garment, the threaded cylinder positioned between stitches with a backing on it on the wrong side of the fabric and a screw securing the Mod Loop on the front and the backing disk on the back. The 'tongue' of the closure snaps onto itself after it comes up through the Mod Loop.

INSTRUCTIONS:
To use, unscrew the screws on the back and remove the backing washers from the shank. Place the closure on your piece and work the shanks of the screws gently in between the stitches of your knitwear from the front. Place the backing washers over the screw shanks on the inside of the knitwear. Screw in the screw with your fingers to secure.
To avoid losing screws or backings, place a tiny drop of clear nail polish in the threaded cylinder before securing. This will keep the closure in place while it's on the body but still allows you to unscrew it when you are ready for a change. Clean the cylinder with nail polish remover on a q-tip between uses.