Lykke Blush 6" Crochet Hook Set
Lykke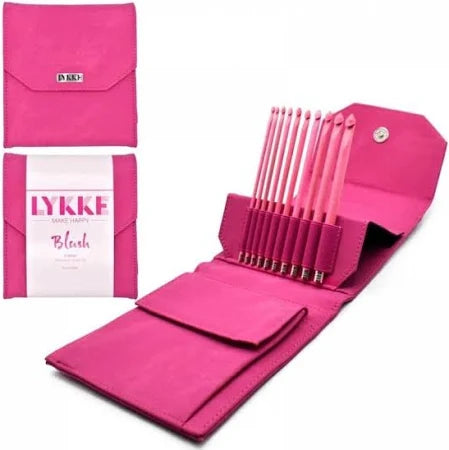 Lykke Blush 6" Crochet Hook Set is a gorgeous set of 10 crochet hooks handcrafted by skilled craftspeople in Nepal. Made of strong birch wood in a vivid pink, these hooks are also incredibly smooth and lightweight, making them a treat to use and to look at. Each hook has both US and metric sizes etched on the bottom of the base to ensure long-term readability. The Lykke Blush 6" Crochet Hook Set arrives in a beautiful pink denim case with a velcro hook stand and two notions pockets. These crochet hooks have an "in line" angled throat, which will help beginning crocheters keep their stitches consistent.
The set includes 10 hooks:
US E-4 (3.5mm)
US F-5 (3.75mm)
US G-6 (4mm)
US 7 (4.5mm)
US H-8 (5mm)
US I-9 (5.5mm)
US J-10 (6mm)
US K-10½ (6.5mm)
US L-11 (8mm)
US M-13 (9mm)
Named after the Norwegian word for happiness, Lykke combines high quality materials and thoughtful design to produce beautiful, durable, happy-making knitting needles.