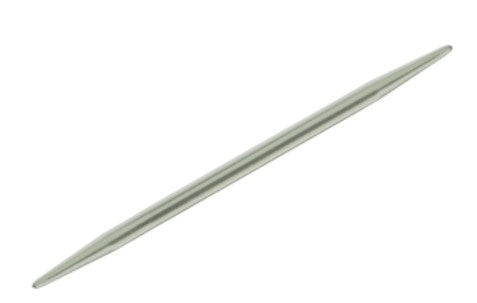 When knitting in the round, fixed circulars can only go so far. Eventually, when knitting a hat, mittens, are various other small, circular patterns, you'll need to make the transition to DPNs to complete the project. HiyaHiya's steel DPNs are perfect for all knitters who enjoy the intricacy and precision of a steel tip, with the exceptional quality that HiyaHiya offers.
HiyaHiya's high quality stainless-steel DPNs are hollow, giving them a lovely lightweight feel, yet strong and perfect for your hand knitted projects. Stitches glide effortlessly over the needle tips enhancing the overall knitting experience! HiyaHiya's steel DPNs contain no nickel coating so are ideal for knitter's with allergies.
All our steel DPNs come in packs of five, with three or four used to hold the stitches while the fifth knits. HiyaHiya has various sizes with lengths of 4", 6" and 8" available. Each length comes in a variety of sizes, ranging from 0.70mm (one of the smallest double pointed needles available) to the chunky 10.00mm.