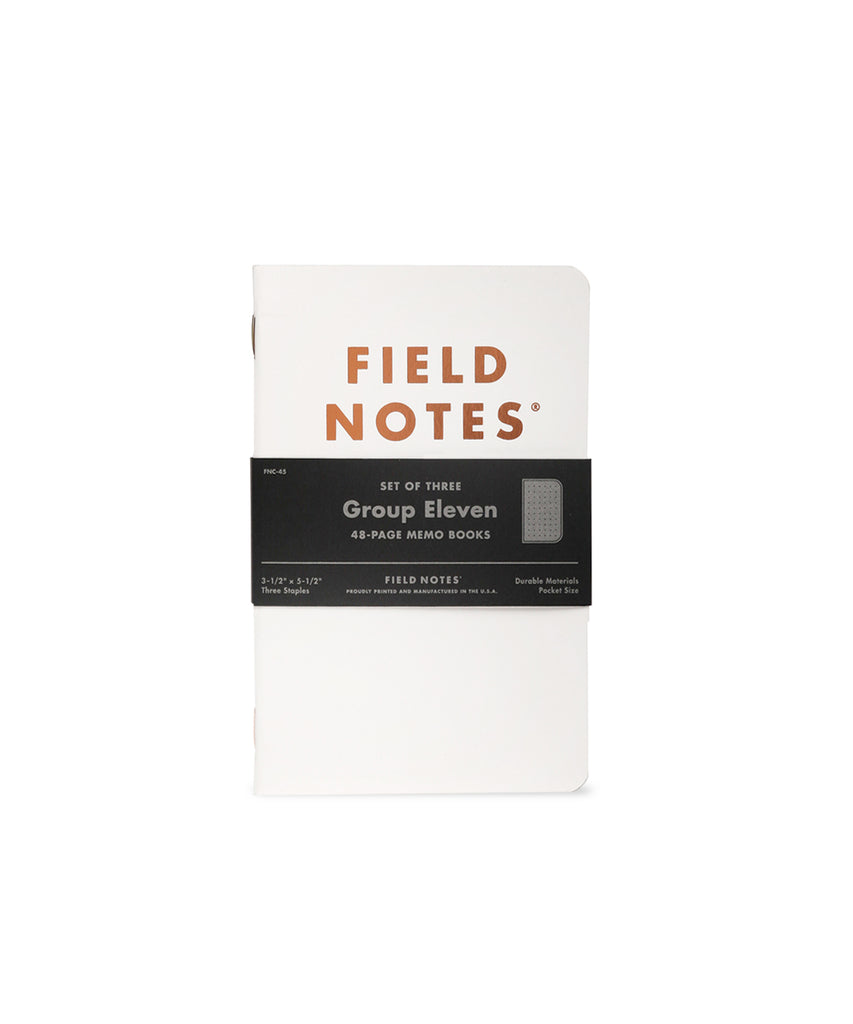 This Field Notes Quarterly limited edition gets its name from the position of the elements copper, silver, and gold in the Periodic Table. ??Group Eleven?g features three standard Dot-Graph Memo Books. But aside from the size, there?ÇÖs not much standard about them.
Stylish and refined, each book in the 3-Pack represents one of the three precious metals and features a cover stamped in metallic hot-foil with matched staples, ink, and (for only the second time ever*) gilded page edges. The covers are a 120#C duplexed stock from Neenah, combining ??Solar White?g on the outside and ??Epic Black?g inside. Body pages are 70#T Finch Opaque with a dot-grid in matching metallic ink.
??Group Eleven**?g plays the shimmering colors of these three ??native metals?g off of the elegant white covers in a way that feels rich without being ostentatious. They?ÇÖre tastefully fit for Winter, especially for list-making and gift giving.
Proudly printed by the good people of eDOC Communications, Mount Prospect, Ill.
Cover: Neenah Classic Crest 120#C Duplex ??Solar White / Epic Black,?g with hot-foil stamped ??Elemental Gold,?g ??Elemental Silver,?g and ??Elemental Copper?g by Nu Wave Die Cutting & Finishing, Chicago, Ill.
Innards: Finch Paper Opaque Smooth 70#T ??Bright White,?g with a fine, 1-color application of ??Good as Gold,?g ??Sound of Silver,?g or ??Copper Country?g soy-based Toyo ink.
Cover and innards printed on a Heidelberg Speedmaster XL 105 40" 6-color printing press.
Bound with a Heidelberg Stitchmaster ST 270 5-pocket saddle stitcher with cover feeder/scorer & Rima RS 10S in-line stacker, with appreciation to Samuel Slocum, George W. McGill, and William J. Brown, the ??Founding Fathers of the Staple.?g
Gilded with an Ochsner edge gilder by Liberty Book and Bible, Indianapolis, Ind.
Corners rounded to 3/8" (9.5mm) and gilded by an Ochsner round corner gilder.
Dot-Graph grid: 3/16" ?ù 3/16" (4.7mm ?ù 4.7mm).
Memo book dimensions are 3-1/2" ?ù 5-1/2" (89mm ?ù 140mm).
FIELD NOTES uses only the Futura typeface family (Paul Renner, 1927) in its materials.
All FIELD NOTES memo books are printed and manufactured in the U.S.A.