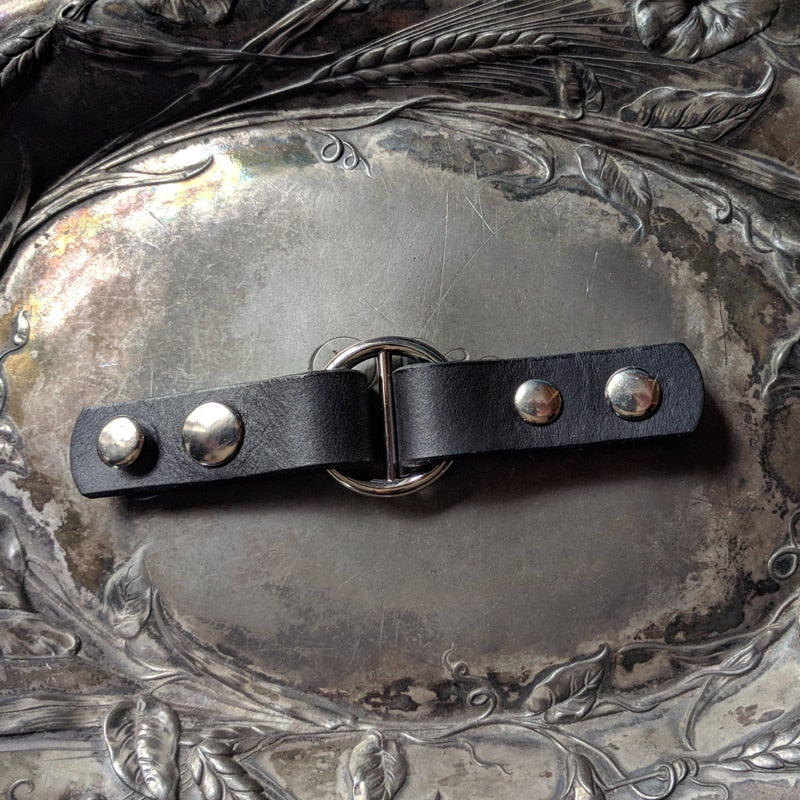 Handmade in the United States
Genuine Leather
5 inches long
leather tabs - .75 inches wide
hardware - 1 inches wide
Available in black
The Cordoba Hidden Snap Closure is one of a series of screw-in leather closures that use a .75 inch wide tab as the foundational leather component with differing styles of hardware. The center line in this ring gives it an unusual and chic look that is both delicate, sleek, and uncluttered. The tab on one side of the closure is riveted in place around the ring. The tab on the other side is inserted through half of the split ring from the front and then snapped on the back, concealing its function and allowing the garment or accessory to be taken on and off easily.
This closure is beautiful on cardigans and accessories, as well as decorative belts, made using the full range of needlearts techniques.
The Cordoba Hidden Snap Closure, like our other screw-in closures, attaches to knitted, crocheted, and loosely woven pieces using threaded cylinders that slide between fibers to be secured on the back with a washer and a screw. Check out our video demonstration.
INSTRUCTIONS:
To use, unscrew the screws on the back and remove the backing washers from the shank. Place the closure on your piece and work the shanks of the screws gently in between the stitches of your knitwear from the front. Place the backing washers over the screw shanks on the inside of the knitwear. Screw in the screw with your fingers to secure.
To avoid losing screws or backings, place a tiny drop of clear nail polish in the threaded cylinder before securing. This will keep the closure in place while it's on the body but still allows you to unscrew it when you are ready for a change. Clean the cylinder with nail polish remover on a q-tip between uses.