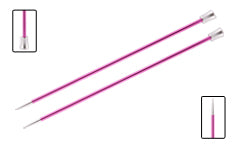 14" single points.
Knitter's Pride Zing knitting needles beautiful metal needles manufactured from superior grade light weight metal.
Vibrant, size specific colors
Has the lightness and strength of aluminum
Provides hours of pleasurable knitting with no hand fatigue
Warm to the touch, and gentle in the hand
Laser printed sizes on all needles
Very light on hands
Shiny silver tips!
Generously sized end caps keep stitches firmly on the needle.