Chiaogoo Twist 4" MINI Interchangeable Needles Set - #000-1.5
ChiaoGoo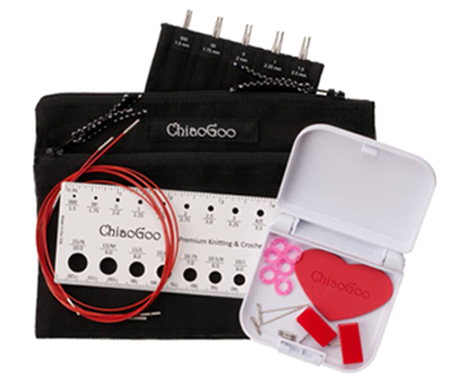 This set includes:
Five pair of 5" (13cm), surgical-grade, stainless steel, lace tips
Red, flexible, multi-strand, nylon coated, memory-free steel cables with lifeline holes in the following lengths: 8" / 20 cm (2), 14" / 35 cm (1) & 22" / 55 cm (1)
Needle gauge
MINI Tools Kit that contains the following: cable connectors (2), end stoppers (2), T-shaped tightening keys (2), stitch markers (6) and a heart-shaped rubber gripper with an extra-sticky back.
The set comes in a compact, 2-pocket, black mesh pouch that fits easily into the current ChiaoGoo interchangeable case. A sleeve with labeled pockets is also included to hold the MINI tips. Pouch dimensions are approximately 6 1/2" x 5" (17cm x 13cm).