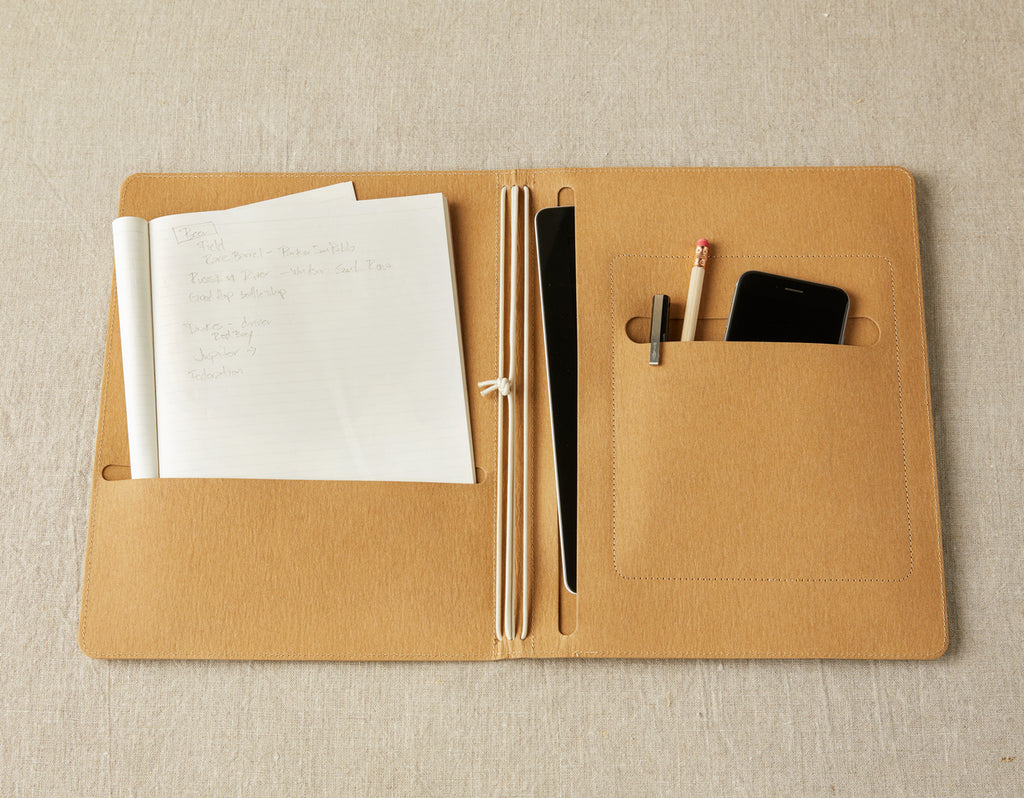 The stylish way to organize and carry books, magazines, journals, notebooks,
tablet/iPads, loose-leaf papers, a cell phone...
Designed for life on the move, the durable Project Portfolio is made of washable Kraft paper fabric, held closed with elastic. Spine elastic secures up to 4 magazines/books/journals, 3 interior pockets store iPad/tablet, phone, loose-leaf papers, pen/pencil and other small necessities. A flat elastic band holds the portfolio closed, and all elastics can be customized with any of three additional colors provided. Fill it with all the parts of your project and be prepared for your active day.
*Contents featured in pockets are not included*
Features:
H 12?g (30.5cm) x W 9?g (23cm) x D .75?g (2cm)
Pre-assembled with ivory elastic inside spine and outer closure, 3 additional elastic colors included.
Storage slots:

Inside front cover - horizontal for patterns, papers, brochures.
Inside back cover - vertical for iPad/tablet, any papers.
Inside back cover - horizontal for phone, pens, pencils, other small items.
Cleaning:
Washing softens the material creating a worn look similar to leather. To wash, simply remove the elastic, machine wash on gentle in cool water. Squeeze and crumple while damp to encourage wrinkles and texture. Re-shape and allow to air dry.