Chevron Tee - Pattern
Prism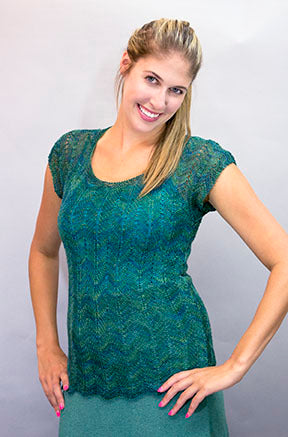 Prism Pattern 8001 by Laura Bryant
"Our glorious chevron stitch tee couldn?ÇÖt be any easier!" says Bryant. "Front and back are worked in separate pieces with either cap or short sleeves cast on and worked along with the body. Seam shoulders and sides, add a neck edging, and you are good to go! The sleeve finish is worked at the same time as the sleeve. Options abound for this great style: Single strand Delicato, as seen here in Jade, is sheer and extremely light weight- you?ÇÖll want one in every color for layering. Lace Weight Euroflax Linen also makes a great, sheer style. Or, work Sport Weight Euroflax Linen, or use Delicato and double it up, for a more traditional tee with good coverage. All photos are cap sleeve variation; short sleeve is approximately 2?g longer.
no charts
schematics included
sewing required
all season
straight (flat), bottom-up / toe-up
5 sizes, finished bust 34", 38", 42", 46", 50"
See pattern cover sheet photo for other requirements.