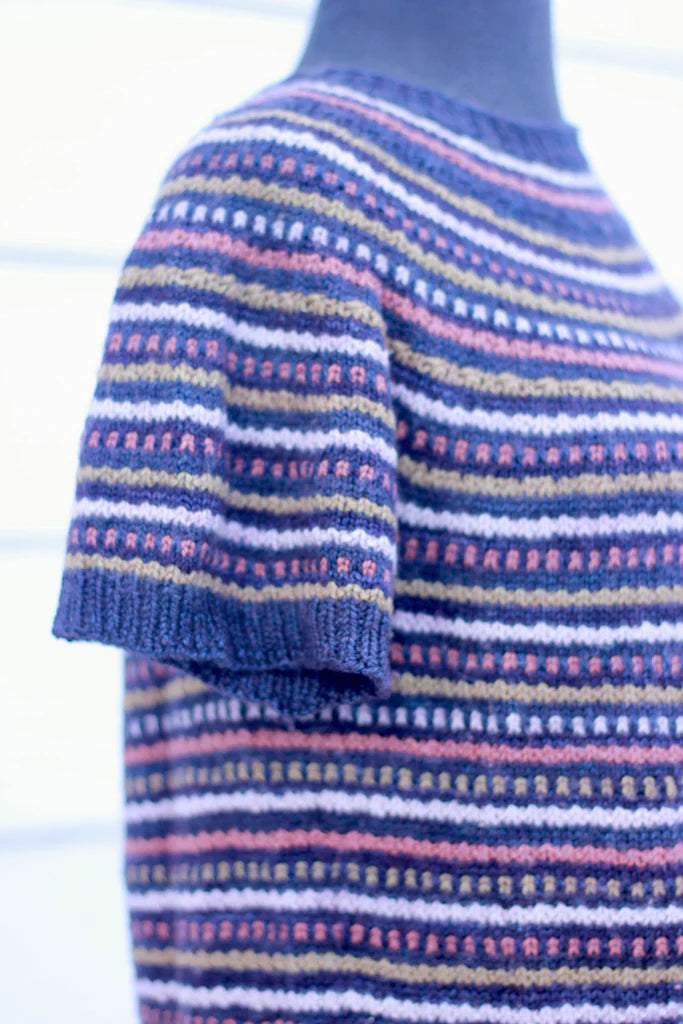 November is National Knit a Sweater in a Month Month.  Seriously, google it.  Emilie and I are always up for a challenge, and we both fell in love with the Collins Tee when we saw the sample in Dream in Color Lamb & Goat that we had on loan for DFW FIber Fest.
We put together several gorgeous kits in the Lamb & Goat, but you could also knit it out of any heavy sock or DK weight yarn.  If you can't come into the shop, remember that we are always happy to help you select your colors over the telephone or FaceTime.  We can take pics of various color combos and send them to you, and tell you if the camera isn't picking something up (like the vibrance of a turquoise, or the blue in a purple.  We know how hard it is to pick colors from web pictures, so we strive to offer the next best thing to being at a local yarn shop.
Emilie is offering a workshop on Saturday mornings in November to get together to work on the Collins Tee, and to offer tips, tricks, and any help you need.
Several of our customers who can't come in to the shop have asked for a Zoom option and we would love to do that.  I (Carla) am in Florida in November, so I'd love to see y'all, plus Emilie (and maybe a yarn shop baby or two) on Zoom.  
We are scheduling those for Sunday afternoons at 3:00 PM central time.  Please join us!  We can't publish the Zoom link publicly because of all of the trolls on the internet, but we will send it out in our newsletter, or just send us a message or email and we will send you the link.
If you are one of those knitters who gives everyone a handknit gift in December (bless you, I hope they deserve it), you are probably saying: "I can't knit a sweater in November!  I still need to knit 5 hats and 2 pairs of socks!"
I get it.  For those of you who are generous enough to knit for others, we would like to declare the post-holiday season "Self-Care Knitting Month."  We will be doing another KAL for you in January, and perhaps one for that last week of the year when almost everyone is on vacation, for you to knit something awesome that is totally for you,  Because you deserve it.  It can be a shawl, a scarf, a sweater, some amazing lace piece ... whatever makes you happy.  Stay tuned for more info.