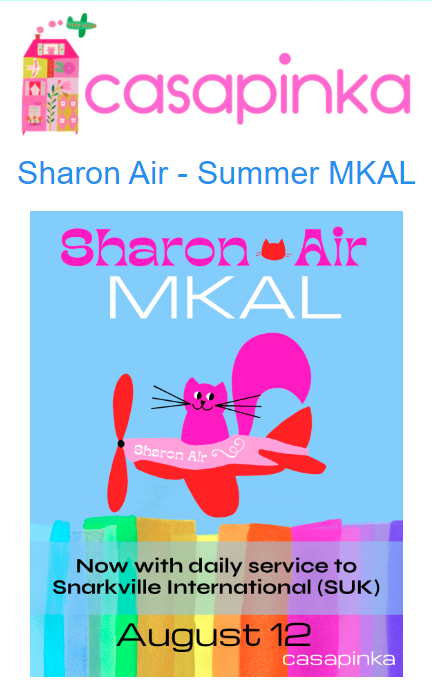 Every Summer, Casapinka hosts a Mystery-Knit-along (MKAL), where one clue (part of the pattern) is released every week.  Her cat, Sharon from Security, is usually the spokesperson (spokes cat?) for these fun events, so you will be hearing a lot from her.
Beginning on August 12, this year's MKAL, a shawl, will be a 6-week nod to The Golden Age of Air Travel.  
We have put together some kits and more will be added; there will be plenty to choose from!
The pattern uses 4 skeins of fingering weight yarn, 400 yards each.  You can use any 4 colors: variegated, tonal, speckled, colorblock, fades, whatever you want.
From Sharon from Security:
"This is not a shawl that is worried about color placement.  Throw in all the colors! "
"It is a shawl struction that is new for The Boss (Casapinka) and me."
"We'll have a graphic up in the next couple of weeks on ravelry so you can plan colors.  The graphic might be shaped like an airplane.  But the shawl will not be."