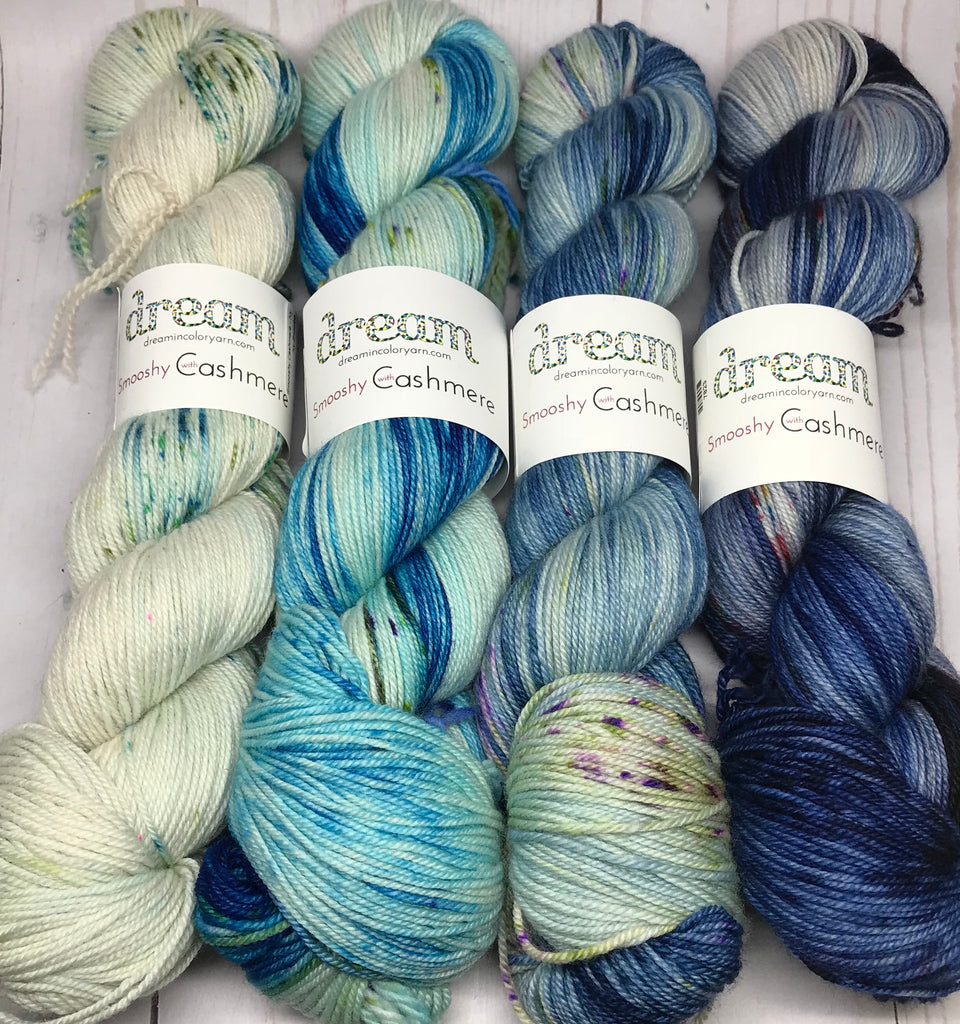 Spector is a Joji Locatelli pattern for a faded circular yoke pullover with a beautifully decorated textured pattern. The trellis-like stitches interlock and change as you make progress from the top down.

Desginer notes: Most of the sweater features a ribbed pattern that uses a PURL stitch as a base. To make things easier I have written the instructions for the body and sleeves to be worked from the WS of the garment (so that most of the sts are KNIT sts instead).

This design uses 4 different colors of yarn to achieve a gradient effect.
SIZES
XS (S, M, L, XL, XXL, 3XL, 4XL, 5XL).
Shown in size M on a 36" bust. Recommended ease: 1-3" (2.5-7.5 cm) of positive ease.
FINISHED MEASUREMENTS
Bust circumference: 32 (34, 38, 42, 46, 50, 54, 57, 63) inches; 80 (85, 97, 107, 117, 127, 137, 144, 158) cm.
Upper sleeve circumference: 11 (12, 13, 14, 14, 15, 17, 17, 18 ) inches; 28.5 (30, 33, 35, 36.5, 38, 42.5, 44, 46) cm.
This yarn pack contains enough skeins of Dream in Color Smooshy with Cashmere to complete the selected size. The pattern can be purchased directly from the designer on Ravelry for $6.50. If you would like for us to purchase a copy and print it for you, you can select that option instead.
Color 1: 1 (1, 1, 2, 2, 2, 2, 2, 2) skeins
Color 2: 1 (1, 1, 1, 2, 2, 2, 2, 2) skeins
Color 3: 1 (1, 1, 1, 2, 2, 2, 2, 2) skeins
Color 4: 1 (1, 1, 1, 1, 2, 2, 2, 2) skeins