Sailaway Cardigan (4 Day KAL) Yarn Pack - Summerlite DK Cotton
Rowan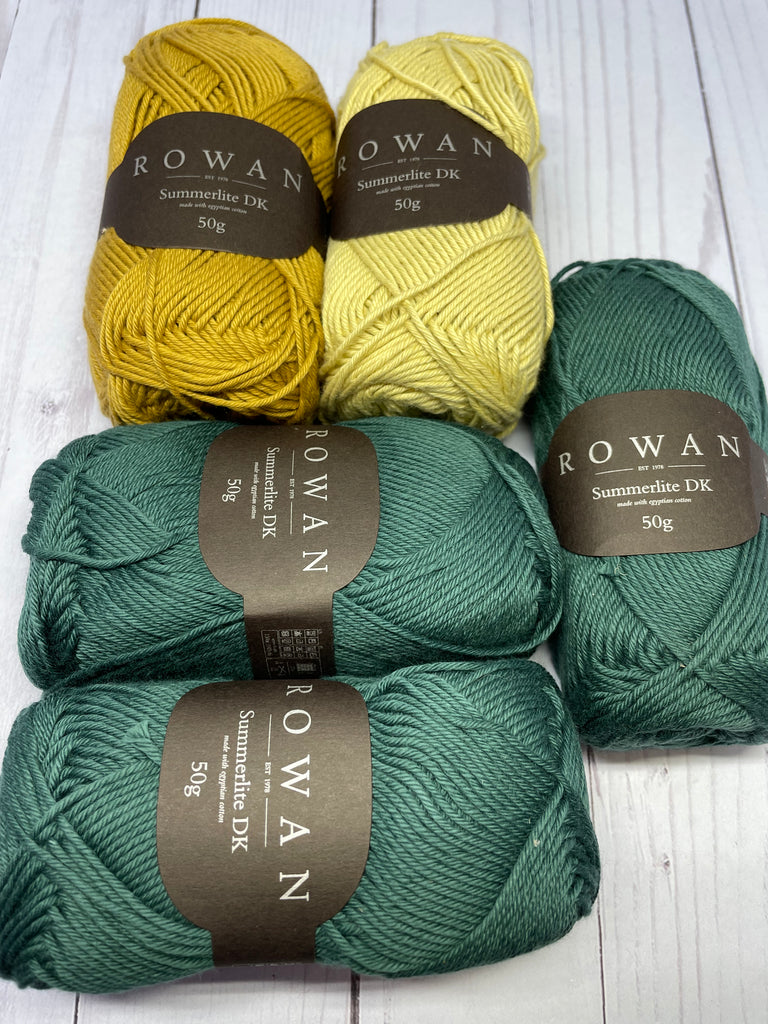 The yarn that Carla chose to knit our sample Sailaway cardigan is Rowan's Summerlite DK.  This is one of our favorite cottons because it creates a nice lightweight fabric and is softer to knit than most cotton yarns.  It makes a perfect Sailaway cardigan for summer.
This yarn pack will make the DK version of Marie Greene's Sailaway sweater,  which is the sweater for the 2022 "4 day" sweater challenge.  (You don't have to knit it in 4 days.  You can find all of the details about the KAL here.)
The pattern will be released on July 1 and is not included with the yarn pack.  You can pre-order the pattern on ravelry here.

Yarn pack includes the required number of skeins of Rowan's Summerlite DK yarn (142 yards per 50g skein, 100% cotton) for your selected size in the Main Color and the two Contrasting Colors.  For each color combination, the main color is the one for which multiple skeins are shown in the picture.
The Size Chart below shows how many skeins of each are required for each size.  Size shown is the finished bust measurement, rounded down to the nearest inch.
Size Chart – Summerlite DK

To Finished Bust Size


Main Color

Contrast 1

Contrast 2

Price

37"

7 (skeins)

1 (skein)

1 (skein)

$80.55

41"

8

1

1

$89.50

46"

9

1

1

$98.45

49"

10

1

1

$107.40

54"

11

1

1

$116.35

59"

12

1

1

$134.25

62"

13

1

1

$143.20

65"

14

1

1

$161.10
Suggested Needles - use the sizes that will give you gauge:
US Size 4/3.5mm (16 in/40 cm) circular needles – neckline
US size 6/4mm (24 in/60 cm) circular needles – upper body
US Size 6/4mm (32-40 in/80-100 cm) circular needles – as needed for body stitches
US size 5/3.75mm (24-40 in/60-100 cm) circular needles – lower body ribbing
US Size 6/4mm (12 in) circular or DPNs or Magic Loop – sleeves
US Size 4/3.5mm (12 in) circular or DPNs or Magic Loop – cuffs
Also required but not included:
Darning needle to weave in ends
Stitch markers
11-15 buttons (18-20 mm)
Blocking pins and mat