Easy V Sweater Yarn Pack - Malabrigo Rios
Malabrigo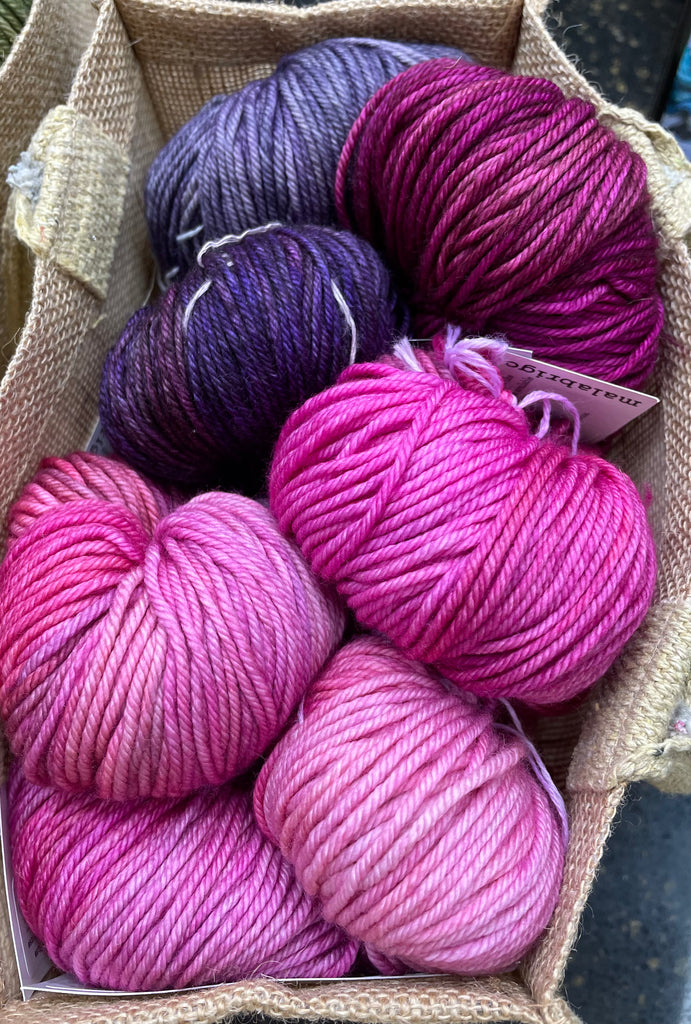 Caitlin Hunter's Easy V sweater is knit top down in the round and features a subtle V shaped neckline which transitions to a round colorwork yoke design. The colorwork is easy to work 1short repeats and only 2 colors per row, making the knitting fun and relaxing while letting your color choices stand out as the star of this sweater.
This sweater is designed to have a relaxed, easy fit- perfect for everyday wear. Recommended ease is 6-8" at the bust, so you should choose a size that is 6-8" inches larger than your actual bust measurement from the size chart below.
Short rows are worked after the yoke chart for a comfortable fit, and instructions are included for adjusting the body length as preferred. The sleeves feature colorwork which can be omitted if preferred.
GAUGE  Note- You should always knit your swatch the same way that the pattern is knit—in this case, in the round. Block your swatch as you will your finished garment and allow it to dry fully before measuring.

Colorwork and stockinette: 20 sts and 26 rounds = 4" 10 cm in stockinette and colorwork on main needles after blocking
Ribbing: 22 sts and 36 rounds = 4" 10 cm in 1x1 rib on ribbing needles after blocking
This kit includes the number of skeins of yarn required for your selected size in the colors pictured.  Quantities are shown in the table below.  The yarn selected here is Malabrigo Rios, a 100% superwash merino worsted weight yarn, 210 yards per 100 gram skein.  Note that this yarn is kettle dyed in small batches and the colors can vary considerably even among skeins from the same dye pot.  In the rare case where we do not have enough yarns from the same bag ("dye lot") for the kit you ordered, we will send you a picture of the yarns that do have so that you can decide if they are similar enough for you to work with them.
The pattern is not included.  You can purchase the pattern directly from the designer on ravelry
Easy V Yarn Requirements – Malabrigo Rios

 

Finished Bust Size

Main Color # skeins

Contrast Color 1

Contrast Color 2

Contrast Color 3

Price

To 44"

4

1

1

1

$112

44" – 52"

5

1

1

1

$128

53" – 56"

5

1

2

1

$144

56" – 60"

6

2

2

2

$176

60" – 64"

6

2

2

2

$192

64" – 72"

7

2

2

2

$208
NEEDLES (not included)  Note that needle sizes are suggested only. You may need to use a different size to achieve gauge. Some knitters also find that they require different sizes for colorwork and stockinette knitting to get the same gauge.
Ribbing: US 4 3.5 mm
Main: US 6 4 mm
Required Notions (not included) : Stitch Markers, scrap yarn or stitch holders, cable needle, tapestry needle, row counter (optional)