Skill Set: Learn to Knit Basic Kit - Cascade 220 Superwash Merino
Quixotic Fibers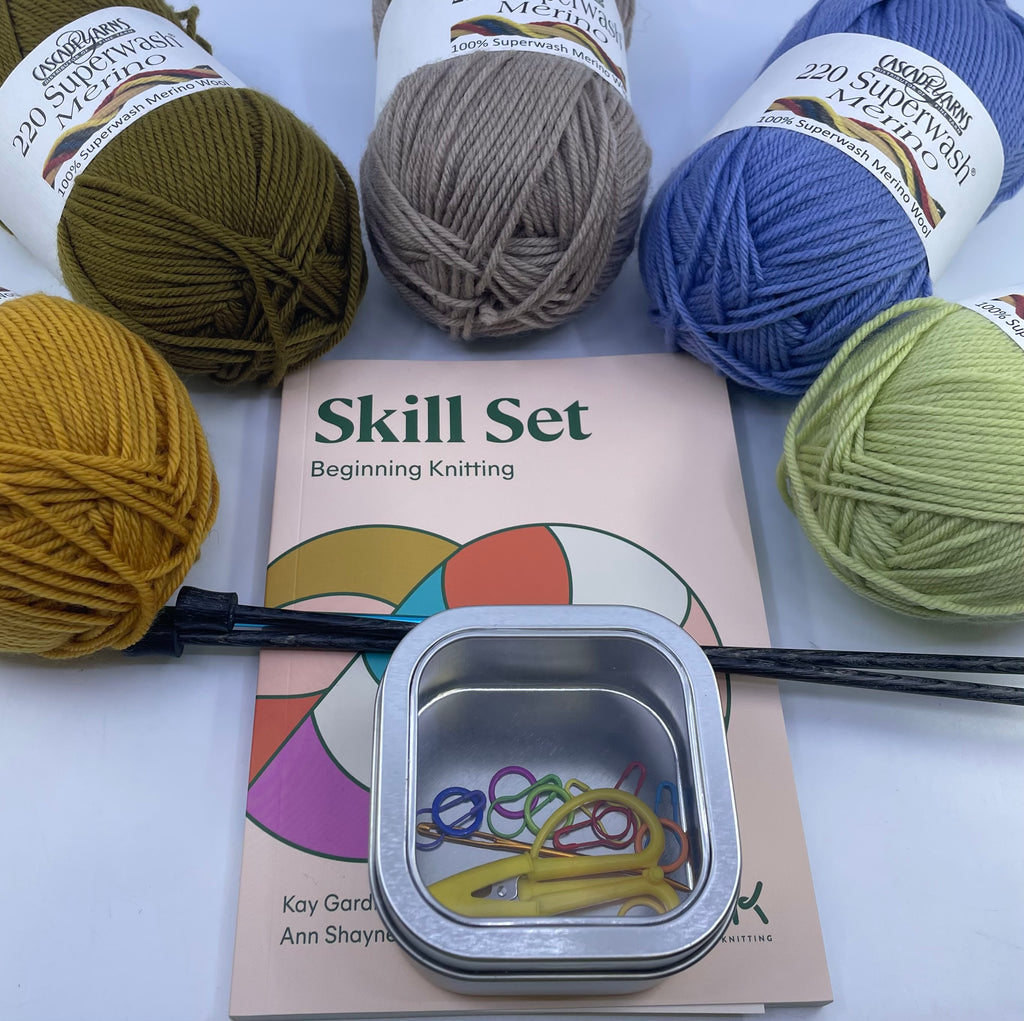 There?ÇÖs never been a how-to-knit book like Skill Set from Modern Daily Knitting. It?ÇÖs little. Smart. Encouraging. In 9 short lessons, with dozens of clear illustrations, Kay and Ann teach everything a new knitter needs to know, and nothing they don?ÇÖt.
This is it. Skill Set gives you the keys to the kingdom.
This kit provides everything you need for the first 3 lessons. Including:
A skein of good merino wool yarn. You do not want to learn to knit with a cheap yarn. A good yarn, particularly real wool, has more elasticity and bounce to it, which feels better to work with and makes your stitches look better. Merino wool is very soft and the Cascade 220 Superwash Merino knits up into a lovely fabric. We chose this yarn for this kit because it is the least expensive of the good wool yarns.
A set of US #7 needles made from Symphonie wood.
A crochet hook (size H), which every knitter needs every once in a while.
The two kinds of stitch markers (closed and "opening" style) that you will need.
A tapestry needle.
Small sharp scissors.
A coil to hold your needles together when you put them down so you don't lose your stitches.
A small tin box to hold the little stuff.
A fun and durable bag to hold it all. The bag is made by Blue Q from 95% recycled material.
The book (optional)
The 9 Lessons Covered in the Book

Everything a new knitter needs to know, short and sweet. These lessons draw on decades of knitting experience by Kay and Ann.
Lesson 1 Supplies, Casting On, Knit Stitch, Binding Off
Lesson 2 Purl Stitch, Combining Knits and Purls
Lesson 3 Basic Shaping: Increases and Decreases
Lesson 4 Knitting in the Round
Lesson 5 Basic Lace and Cables
Lesson 6 Basic Colorwork: Stripes, Stranding Intarsia
Lesson 7 Finishing: Weaving in Ends, Seaming, Blocking
Lesson 8 Patterns, Yarn, and Gear
Lesson 9 Fixing Mistakes
We emphasize practice in each lesson, so there are swatches to make for each technique. There?ÇÖs just one pattern, for a simple hat, that lets a new knitter try out the techniques.