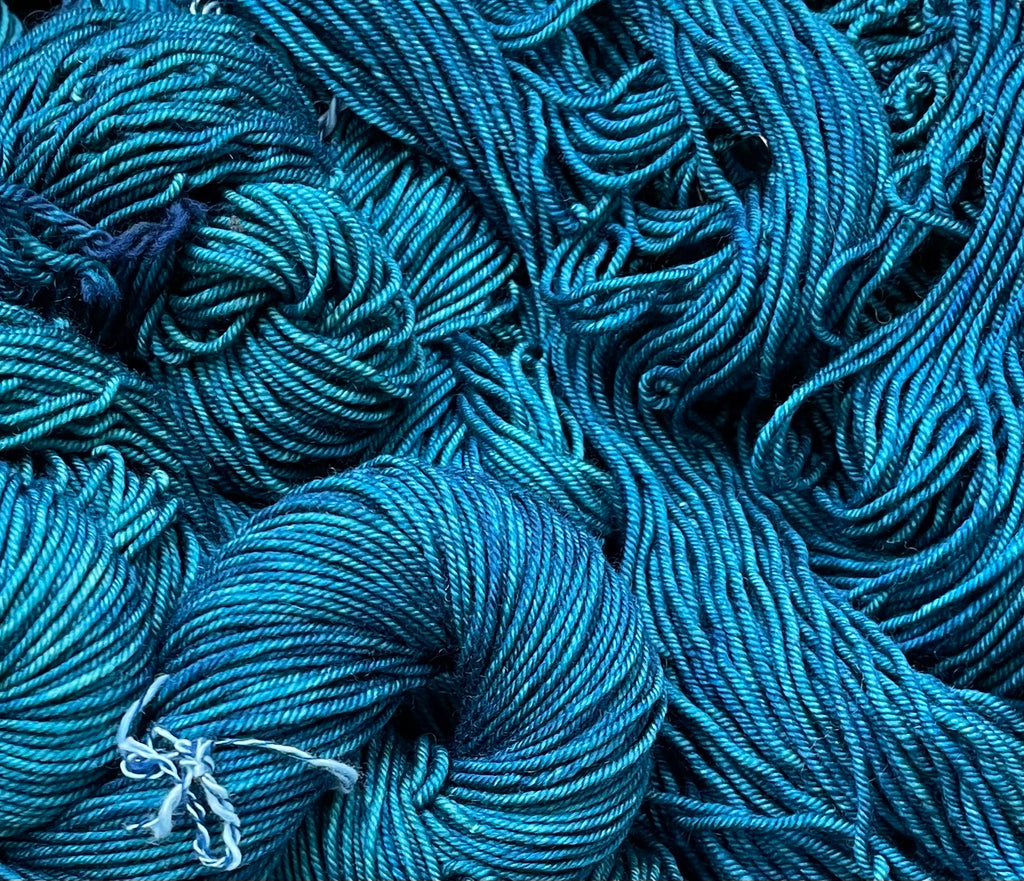 We absolutely love this yarn. It is a super soft organic 100% merino Worsted weight yarn with a soft, bouncy, completely natural feel.
This is often dyed in smaller batches of 4-5 skeins,.  This is a fantastic sweater yarn and Carla has knit two sweaters in it already.  In order to share the joy of using this for sweaters, Carla dyes special "sweater lots" (same day, same temperature, same everything except the actual pot) that will match as closely as possible.  There are often subtle differences between the skeins that might be visible if there is a sharp line between one skein and another.  You can avoid this by blending the skeins together by alternating two skeins for a few rows when changing from one skein to another.  Carla usually does this for a total of 8 or 10 rows.
A "Sweater Lot" is 7 or more skeins that were dyed together and that are sold in a "bundle" of at least 7 skeins.  If you purchase the entire lot, or 10 skeins (whichever is smaller), one skein is free.

Hand dyed in our dye kitchen in Whitesboro with professional acid dyes.
This is not superwash treated, so it should not be washed in a machine with a lot of agitation and warm or hot water.  It can be washed in cold/cool water on a delicate cycle and laid flat to dry.

Please let us know if you would like to have your skeins wound (put a note in at checkout).
Fiber: 100% organic merino
Yardage: 220 yards/4 oz per skein
Gauge: 18-20 stitches = 4 inches (10cm)