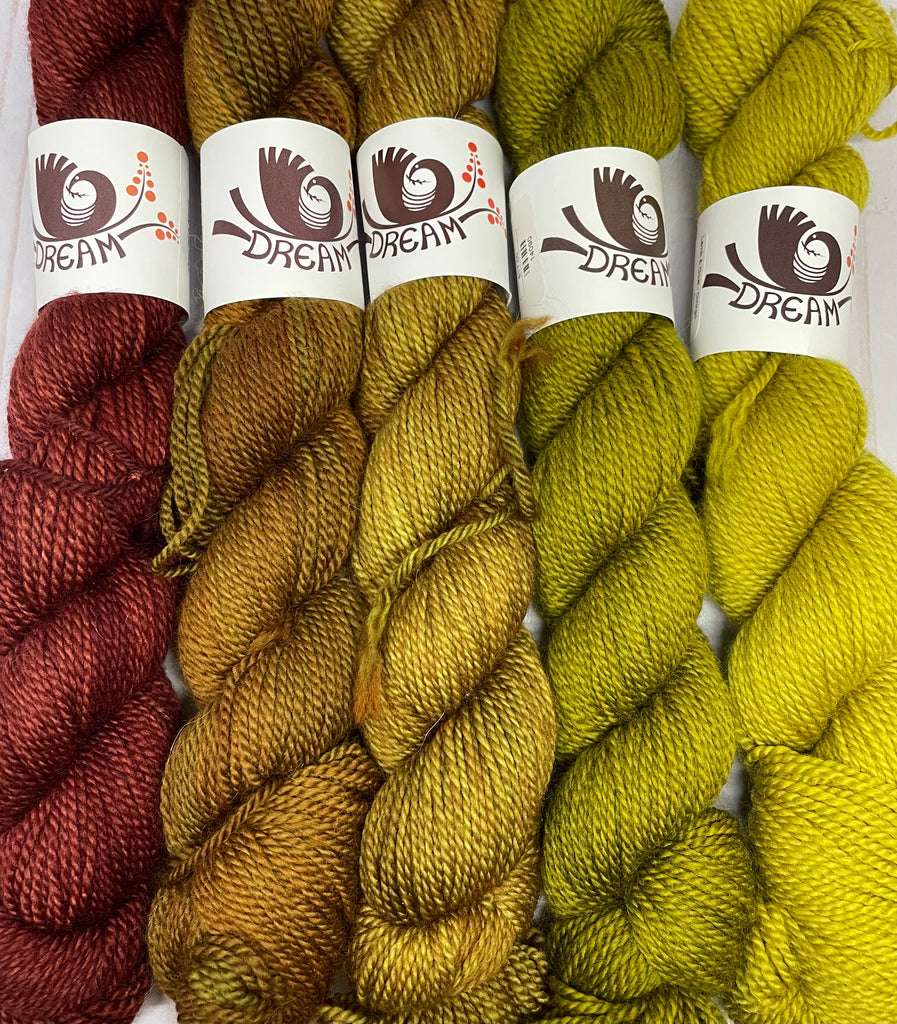 Joji Locatelli has done it again!  She has just released a gorgeous new cropped cardigan pattern with incredible design details, including bobbles, cables and i-cord edging.
La Prairie is designed to use a set of yarns that create a color sequence where one color fades into the next one.  However, the cardigan can also be knit in one color.  Joji gives instructions for the color changes and also gives detailed instructions if you don't want to buy extra skeins for your size.
La Prairie has 6 sizes, from 30-68", and is meant to be worn with 4-10" of positive ease.  The yardage requirements are listed on the pattern as 1250 (1540, 1871, 2283, 2647, 3034).
Important Note on Yardage:
The yarn requirements were calculated based on 440 yard skeins.  Sizes 1-3 require one skein each of five colors, and sizes 4-6 require 2 skeins of each color.  But the designer also says that you can avoid having to purchase 2 skeins of each color by adding one more skein with a 6th color.   Carla did some math based on usual sweater yardage requirements to adjust the quantities for yarns that come in 190 yard (50 gram) skeins to create the skein requirements in the table below.

There are quite a few options, however, to avoid purchasing an extra 5 skeins for the larger sizes.  You can add a sixth color, or add an additional skein of one or two of the colors and adjust where you change colors.  The possibilities are too numerous to provide all of the options here, but if you would like for us to help you choose additional skeins to add to a 5 skein kit to make a larger size, please send Carla an email and tell her what you need and she will send you pics of some options.
GAUGE:
26 sts and 37 rows to 4" in stockinette on US 2 1/2 needles, after blocking
30 sts and 37 rows to 4" in Waves Pattern on US 2 1/2 needles, after blocking
FINISHED MEASUREMENTS:
Bust circumference: 35 (42 1/2, 50, 57 1/4, 64 3/4, 72 3/4)"
Armhole Depth: 5 1/2 (6 1/2, 7 1/2, 8 3/4, 10, 11 1/4)"
Sleeve Circumference-Upper Arm: 10 1/2 (12 1/2, 14 1/4, 17 1/2, 19 1/4, 20 3/4)" 
Sleeve Length from Underarm to Cuff: 17 1/2"
Length from Underarm to Hem: 14"
THIS KIT INCLUDES:
The number of skeins of yarn required for your selected size in the colors shown.  Quantities are shown in the table below.  The yarn in this kit is Lamb and Goat, which is 90% New Zealand wool/10% cashmere goat and 190 yards per 50 gram  skein.
Optional Pattern: The pattern can be purchased directly from the designer on ravelry, or you can choose the pattern option and we will purchase a copy for you.  Please put your your ravelry name in the notes at checkout if you would like us to have the pattern added to your ravelry pattern library.
NEEDLES (not included): US 2 1/2 (3mm) circular needle, 32" long
NOTIONS (not included): ?stitch markers, removeable stitch markers, cable needle, stitch holder (or waste yarn), tapestry needle
| | |
| --- | --- |
|  Finished Bust | # Skeins (Using 5 colors as designed) |
| 35 in. | 2 x 50g skeins of each color, 10 skeins total |
| 42.5 in | 3 x 50g skeins of each color, 15 skeins total |
| 50 in | 3 x 50g skeins of each color, 15 skeins total |
| 57.25 in | 3 x 50g skeins of each color, 15 skeins total |
| 64.75 | 4 x 50g skeins of each color, 20 skeins total |
| 72.75 | 4 x 50g skeins of each color, 20 skeins total |