Holiday Special Out of Line Cowl Kit with Diana Couture Yarn Owl - Gift Set
Dream in Color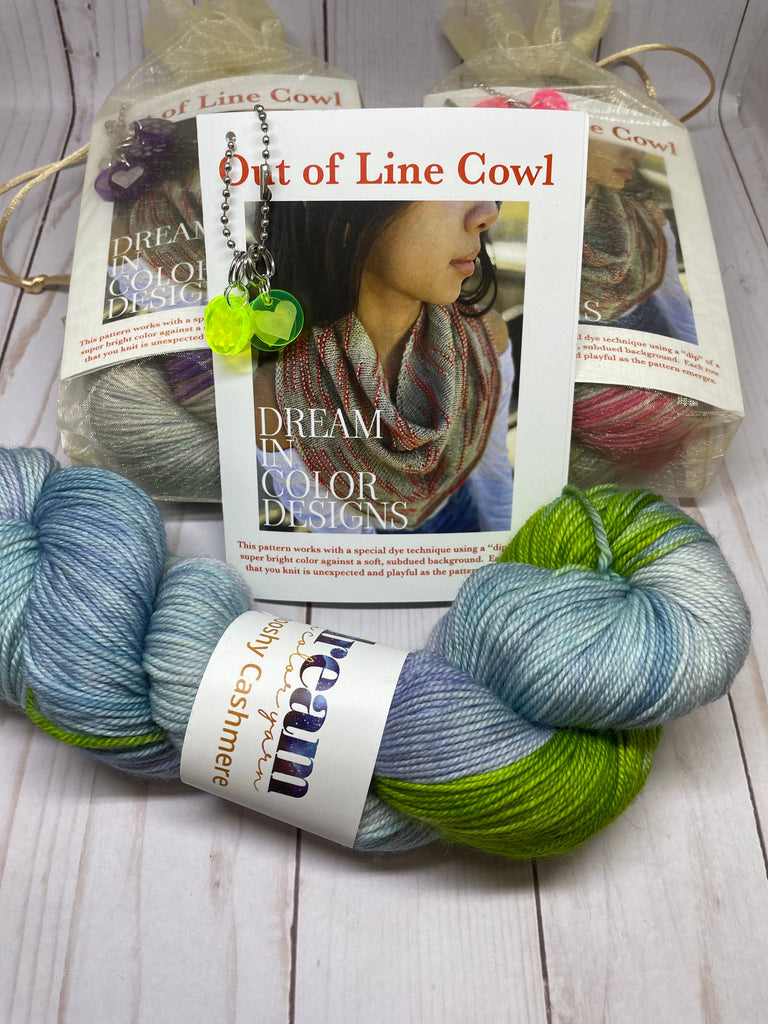 This gift set combines the Dream in Color Out of Line cowl kit with a one of a kind Yarn Owl project bag by Diana Couture. 
There are three color options for the cowl kit, but only one bag is available.
About the Yarn Owl:
Whooo gives a hoot about tangled yarn? I know I do! The Yarn Owl has solved that problem for me, and I don't know how I knitted without them!

The overlapping "ears" of the Yarn Owl snap together leaving a center opening. The ears keep the yarn in place, and the yarn winds out smoothly. If you want to put your project aside and start another one, simply remove the yarn and replace with a new skein!

This Yarn Owl measures 5" in diameter and 4-3/4" tall. A small skein will unwind from the outside or from the center. Larger skeins will need to unwind from the center to work. Balls of yarn fit easily, and a small project (sock or mitten) can be kept in the Yarn Owl as well, so it makes a great project bag.

The Yarn Owl comes with a snap-on strap to wear on your wrist or the strap of a bag. It can also strap onto the arm of a chair.
About the Cowl Kit:
Dream in Color dyed three special colors for this "planned pooling" pattern.  The cowl is knit in stockinette stitch, except that you purl the stitches when you come to the contrasting color.
Kit includes:
One skein of Dream in Color Smooshy with Cashmere yarn (70% superwash merino, 20% cashmere, 10% nylon / 400 yards per 4 oz skein) in the selected color
Set of 4 acrylic stitch markers
Printed pattern
Plus one very special "Blue Roses" Yarn Owl.

Also required, but not included:
US #6 24 inch circular needles.