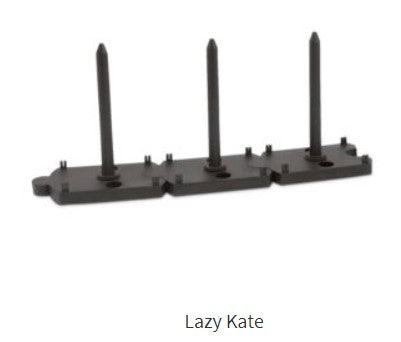 This Lazy Kate?ÇÖs innovative puzzle like design allows you to link as many as you want together. This product comes with three bases which will each hold a bobbin, but if you want to ply more than 3 bobbins together you can purchase multiple and they will all link together. It includes an elastic band that can tension the bobbins if needed. The bobbin stopper prevents the bobbin from popping off if unwinding bobbins at high speeds. Another feature of this Lazy Kate is the included yarn spike. This spike designed to slide through a yarn ball made with a ball winder. Then you can use the outside pull from the ball and the spike will hold it in place as you knit from the ball.
It works with EEW Nano, EEW 6, and EEW 5.x bobbins. It will also work with other bobbins that have fit on a 3/8 inch or smaller shaft and have a 4 inch or smaller outer diameter.
I originally designed this Lazy Kate design as 3D printable files, and these files are still freely available. Because of the huge support of the community I have updated the files to be optimized for injection molding. This product is injection molded from glass reinforced nylon. Injection molding makes the product much more durable, and has a much nicer finish. This process also helps reduce the price when they are made in larger quantities like we have done here.
Weight: .8 lb
Dimensions: 6" x 4" x 2"