Arne & Carlos Advent Calendar 2021 - 24 Mini Nordic Jumpers Kit
Arne & Carlos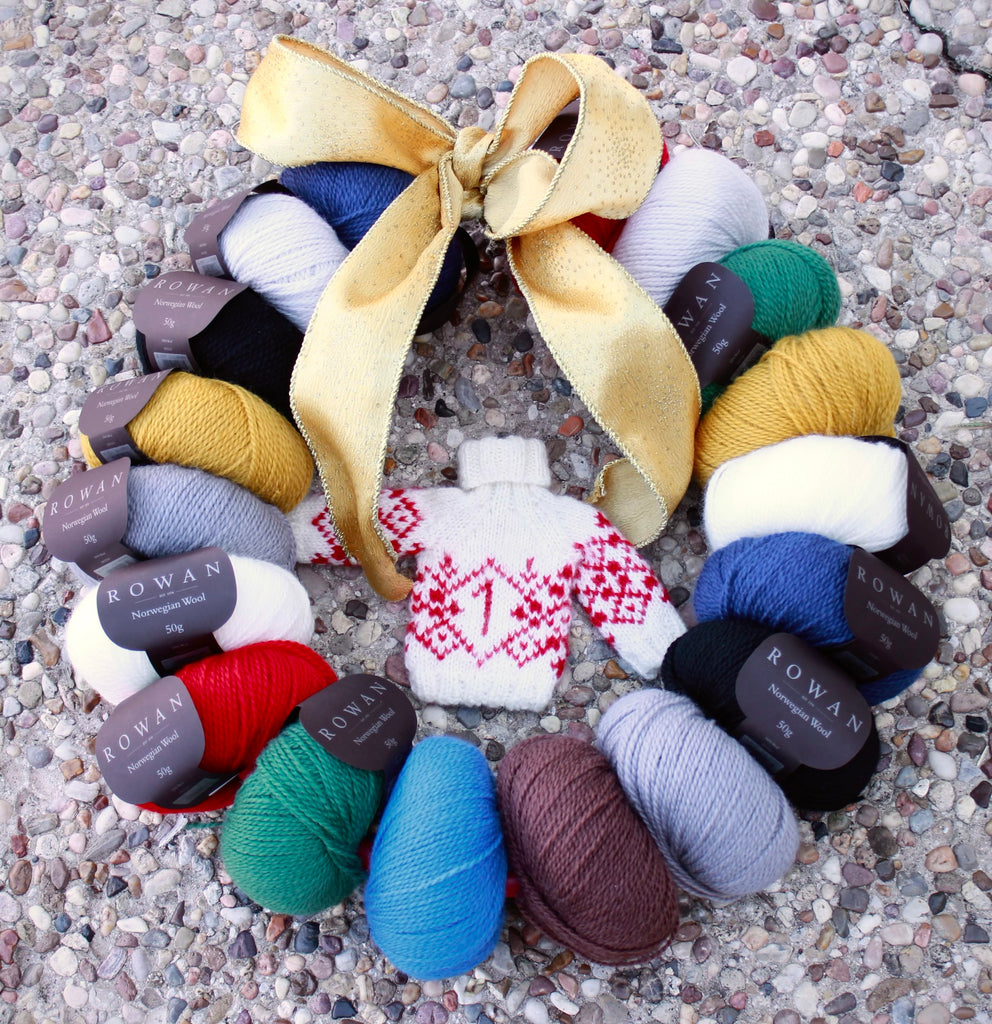 This year's Advent Calender pattern from Arne & Carlos is for 21 mini knitted Nordic sweaters that make delightful packages for Advent goodies.
Kit Includes:
18 balls of Rowan Selects Norwegian Wool (100% Norwegian Wool, 127 yards/50 grams) in the colors and quanitties specified in the pattern.
Optional needles. For your convenience, we offer a selection of optional needle packets: Prym Needles (Arne & Carlos' favorite), Dreamz Symfonie Wood needles, Knitter's Pride Zing needles, Hiya Hiya, Kollage Square needles, or Chiaogoo Red Lace Circular combined with Chiaogoo Bamboo DPNs. Please see the note below for more detailed information about the needles for this project.
Optional pattern. We encourage you to purchase the pattern directly from Arne & Carlos for $7.00. If you need a printed pattern, we can purchase and print the pattern for you for an additional $25 (the pattern is 29 pages long and includes 24 charts and a color picture of each sweater).
About the needles:

Arne & Carlos follow the European convention of translating 3.00mm needles as US #2, but needles manufactured for the US market usually mark 3.00mm as #2.5.

The #2.5 circular is required to start the bottom of the sweater with a closed cast on and a few rows of magic loop. Arne & Carlos then switch to DPNs, which they prefer. The needles listed in the pattern:
US #2.5 (3.0mm) - 24" circular
US #2.5 (3.0mm) DPNs
US #4 (3.5mm) DPNs
If you prefer Magic Loop, you will only need two needles:
US #2.5 (3.0mm) - 24" circular (or longer if you prefer)

US #4 (3.5mm) - 24" circular (or longer if you prefer)

Carla usually prefers DPNs for all small pieces except when stranded colorwork is involved. For this project she is using magic loop because it makes it much easier to the keep an even tension with the longer floats.
So, if you select the "Magic Loop" option, you will receive fixed 24 inch circulars in the selected brand in sizes US #2.5 and US #4.